---
Sustainable products
All Bold Uniq products are crafted with ethically sourced ingredients and are free of parabens, mineral oil, phthalates, sulfates and formaldehyde.
Customer Reviews
97
reviewers would recommend this product
Write a Review
Ask a Question
Amazing! You need this
So, I have actually not written any review before this but Omg! Omg! This mask is awesome. I have no "before" pictures but I should say my hair usually gets a yellow tint when I bleach my hair (I do not bleach my hair regularly). But I got this product and applied it for 10 mins, now I was initially scared that my hair was going to become blue. But man was I wrong. When I washed my hair, it was way lighter and looked like a professional worked on it. I mean, woah! I use it weekly and I've recommended it to all my blonde friends, it is a life-changer.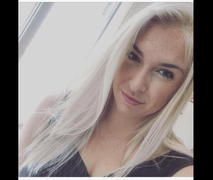 Works beautifully on lighter hair. Love it!
I am trying to get what can help grow my increasingly grey hair out. I'm not looking to bleach too much because my hair once got fried. My roots are about 2-inches long and the other parts of my hair are kind of golden blonde. The hair gets brassy so I tone it with Wella T-18 toner. One time, I came across this purple hair mask on Facebook. I have tried it 3 times so far and it gets a part of the brassiness in my colored hair parts out. It worked even better for the blonder streaks in my hair. My roots have a slight lavender color too but it looks quite natural. I love it. I will keep using this as I grow my hair and even after I grow it out.
Highly recommended
I've been searching for a excellent purple mask/shampoo and I think I may have finally gotten something worthy of my money. I stay on a fram and our water is quite harsh, so I need to rejuvenate my hair regularly. I apply this for 5 minutes and it did more than just strip the brassiness and rust, it nourished my hair too. It didn't dry my hair like other brands of purple shampoos and maks I've used in the past. Certainly worth it.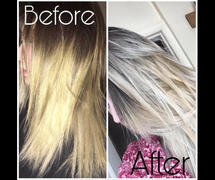 Dramatic Results
This mask did as I thought it would. I love keeping my highlighted blonde hair icy and shy. I had honey-colored and golden tinges in my hair and it had been uncoloured for more than a month. I've tried various blue/purple shampoos and conditoners with very little results. I got this product after thorough research and after going through the reviews and ratings, I was sold. Applying it was easy and I let it stay for around 15 minutes. My hair has gotten to the ideal shade I wanted. My advice is that you should follow the directions and be cautious since it is very pigmented. Your ends will take it in faster than the top of your hair. Ensure you let it stay on both sides for equal time or the toning may come out uneven. In my next use, I will pay more attention to the top of my head and use it for a very short time on my ends.