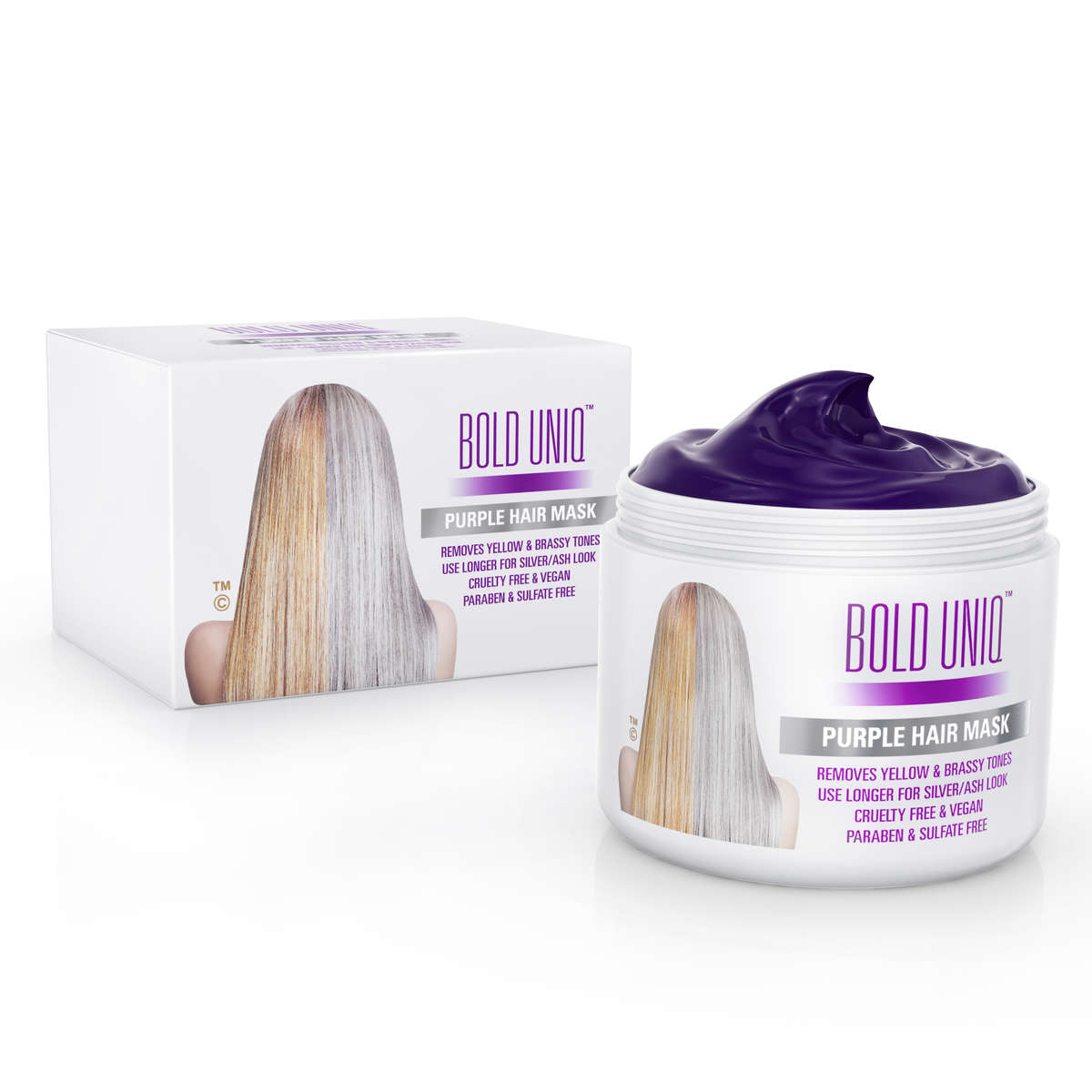 Instructions
Before use, ensure hair is clean and free from product build-up. Use gloves provided to prevent color staining your hands. Apply to towel dried hair from mid-lengths to ends.
Leave conditioning mask for a maximum of 5 minutes to reduce brassiness, repair damaged hair strands and add shine. For stronger silver to ash-grey results, leave in for 10-20 minutes. If you do not achieve results on first use, double leave-in time on next use.
IMPORTANT! Always carry out a test on a section of the underside of your hair before committing to longer leave-in times.
Rinse thoroughly with cool water.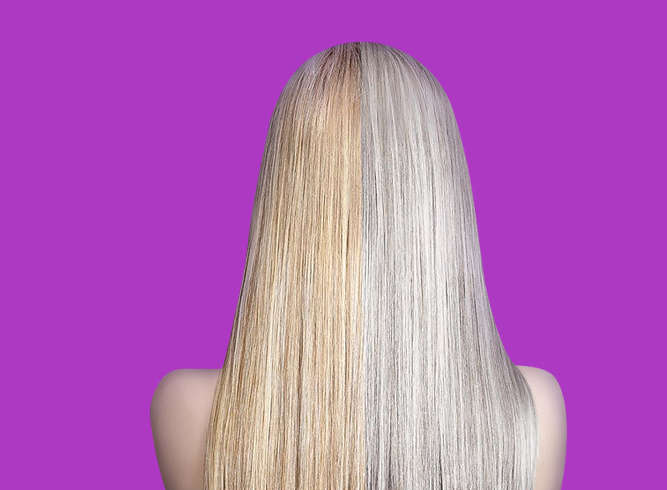 How Does It Work?
Bold Uniq Purple Hair Mask ideal for natural and color-treated blonde and highlighted hair to reduce brassy discoloration and neutralize unwanted yellow tones. The ultra-pigmented mask is specially formulated for light hair shades; the violet-tone formulation enhances blonde, platinum, white, silver and grey coloring.

Formulated with a range of incredible oils including Jojoba, Marula and Coconut for intense hydration and conditioning. Keratin and Vitamin B5 strengthens hair strands, delivering unparalleled shine and softness.


Follow us on instagram
@bolduniq
Customer Reviews
10/08/2019
Heather B.
United States
Excellent Product!
I was nervous purchasing this product because it seemed to work 50/50 based on other reviews. Honestly, it was perfect! I'm so glad I bought it and will definitely continue purchasing this product. I leave it in for 10-20 minutes depending on how much time I have. If i leave it in for 20 minutes I do get purple tints in some areas but I actually like that so I don't mind. It doesn't work well if I leave it in for less than 10 minutes.
When to use?
How long after bleaching your hair are you using this? The product recommends 2 weeks, but could I do it earlier?
very good mask but not really sastified
I have dyed my hair to blond (some places is brown blond) and I hope that when I use this mask it could change to silver or ashy look. I really don't hope it would help my hair to be even color. But mask just worked at some curl of hair but not all, even at some very blondy curl, and even after 3-4 times I use the mask, my hair doesn't change so much. Sadly, I really expected this mask will help my blond hair change to ashy, cool look =))) But it really made my hair softer and smoother. Big point!! Still recommend using this purple mask.
Brilliant, absolutely brilliant!
This is amazing. It does what it said it will do when you follow the instructions. No brassy or yellow colors. I will definitely get one again when I ran out! I also find the smell really nice, and it made my hair soft and smooth.
A must-have!
I love this shampoo, it took out all of my bronze tones. It is an absolute essential to my hair routine from now on. Definitely a must-buy! Actually my whoel family is using it now, thanks to me! Lol