---
Ultra-potent formula
Stronger than traditional purple shampoos, Bold Uniq enhances hair color for ice-cool blonde, dazzling silver or ash tones.
Remain vibrant, shiny and healthy for longer between salon visits.
Sustainable products
All Bold Uniq products are crafted with ethically sourced ingredients and are free of parabens, mineral oil, phthalates, sulfates and formaldehyde.
Customer Reviews
Write a Review
Ask a Question
Most amazing purple shampoo I have ever used!!
I'm a Dallas hairdresser and a friend suggested this shampoo. H aving used almost every silver shampoo on the market over the years, I couldn't believe the effects of this!! Yesterday we tried it on a client and I wanted to share the findings here, it was awesome. We let it stay on for 5 minutes on the clients hair and the results speak for themselves. No extra dye or toners were used, just the shampoo on the client's wet hair! Will definitely buy more for our customers. I'm normally not a review writer but hopefully this will help somebody get the results they desire on a budget!But ladies it's very solid, so read the directions carefully and step up the length of time you leave on gradually, we left it for another customer for longer and it went a beautiful ash color, very trendy. Hope this helps anyone reading :) surely a must-try!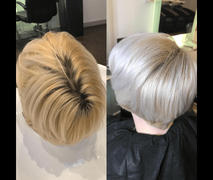 Are you ready for a miracle?!?
I've had Catwalk Fashionista purple shampoo for around a year, and while it was good, I started seeing yellow tones showing up in my hair. My hair is light blonde (bleached) with gold highlights all over (bleached UBER) and I try to keep it on the cooler blonde side. I opted for this shampoo after reading all sorts of reviews. I. WAS. NOT. DISAPPOINTED!!! I prewashed with a clarifying shampoo after reading reviews here, rinsed, wore some gloves and applied this shampoo. I put it on and rinsed for 3 minutes. WHOA! I could clearly see a difference.I ensure I used a moisturizing hair mask after as this shampoo is really dry (was warned so I was not surprised). I was so pleased with the result after toweling! Nice platinum blonde, the highlights are True platinum. Just as if I was coming out of the salon! I expect to do this roughly once every three weeks (I wash just once or twice a week) to hold the results up. Jump off and try it, if you're on the fence about this!
Great for grey hair
I tried making my grey hair (40 percent or thereabout) silver with this shampoo and it worked much better than I had hoped. The grey was a gorgeous luminous silver after one use. For another use, I left it on longer to get a slight purple wash which I also adored (it only lasts until the next shampoo). I'm very responsive to scents, and I have a bad reaction to a lot of chemicals, so I was nervous about using this, but it was perfect. The smell is very mild and friendly, my hair is in great shape and there's no scratching or rashes. I'm pleased.
Blondes and greys will LOVE this shampoo
This shampoo is fantastic! I believe the bad reviews are from people who use it on darker hair. I check the replies and watched the videos, and wanted to try them out. I was just so pleased. I have very light blond hair but it's really delicate and even my hairdresser is hesitant to use a high volume bleach for fear of causing too much harm. This shampoo lifted my blond hair to almost platinum, which is just what I wanted. I left it on for only 2 minutes. My r oots became little lilac and I'll probably use it for brightening up the ends next time. It's performed so well that even my hairdresser wants its name! You should buy this if you want a platinum blonde or a lighter brown.Review the directions and you won't go wrong. The best purple shampoo I have used in my experience, and I have used so many. Cruelty free with no sulphites.